Cassino lies in Southern Latium in the province of Frosinone, also known as  Ciociaria is ready to celebrate the 70th Anniversary of the Battle of Monte Cassino (Gustav Line)
CALENDAR EVENTS – MEMORIAL DAY 70TH ANNIVERSARY BATTLE OF MONTE CASSINO
17 May at 10.00

Inauguration of the statue of General Anders Museum at Historiale in Cassino

17 May at 12.00

Ceremony at the Military Cemetery Italian Montelungo

17 May at 13.00

(MCFRR) Opening of the exhibition "Legato" at the hall Piero Malatesta room, Biblioteca Comunale which is the Municipal Library (see also Sunday events) plus London Ngati Ranana group performing at opening

17 May at 15.00

in New Zealand ceremony at the monument of Cassino Railway Station

17 May at 16.30

Veteran's Parade in the streets of the city, in Piazza follow Labriola, concert bands and folk groups of the various nations present

18 May at 9.30

Ceremony at the Polish Cemetery with the celebration of the SS. Mass

18 May at 15.00

Ceremony New Zealand at the Commonwealth Cemetery

18th May at 16.30

Opening of the Photo Exhibition of New Zealand (the photos are of Cassino commemoration 2004) at The Historiale, with the Maori group Ngati ranana, MCFRR and Legato Exhibitions (see events on Saturday)




and Sunday 4.30pm

18 May

Scout program

19 May at 10.00

Ceremony at the Canadian and British Commonwealth Cemetery

19 May at 18.00

Ceremony of the breakthrough of the Gustav Line to the River Gari, Sant'Angelo in Theodice

20 May at  9,30

Ceremony at German cemetery of Caira

20 May at 15,30

Ceremony in Terelle – Colle Abate

25 May

"70th Anniversary of the Battle of the Melfa" (Ass Battle of Cassino)

26 May

Memorial Day American Military Cemetery in Nettuno

 

 
What was the significance of the Battle of Monte Cassino in Italy?
The Battle of Monte Cassino was a long campaign that stopped the advvance of the Allies up the "boot" of Italy.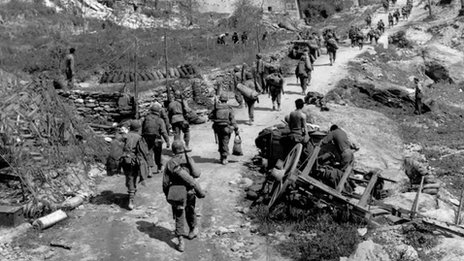 The only place where the Allies were fighting the Germans was in Italy(excluding the campaigns in Russia by the Russians).
Monte Cassino was a mountain that over-looked the LIri Valley and along with the other mountains it formed a formidal natural defense of Rome from attack from the South. (Only once in its 1000 years history had Rome been successfully attacked from the South.)
The campaign began with the Allied offense on Jan 22, 1944, that tried to cross the Garigliano River into the Liri Valley and into the towns at the base of Monte Cassino. There would be two other Allied assaults before the German finally pulled out of the town of Monte Cassino and the mountain & Abbey of Monte Cassino on May 18, 1944. This opened up the path for the Allies to advance into Rome. Only a few weeks later, the Allies launched the invasion of Normandy.
Italy2love.com offers Tours, Excursions and private transfers in Cassino Area.
PRIVATE TRANSFER UP to 20 PEOPLE FROM/TO CASSINO – ROME CITY CENTER – ROME AND NAPLES AIRPORTS
PRIVATE AND GROUP BATTLEFIELD TOURS
Private tours by a Local Guide will make your experience unique with a tailor-made visit of Montecassino and WWII battlefields.
Highlights:  private tour of the Abbey, the war cemeteries, the Memorial Park of San Pietro Infine and historical museum, the rapido river crossing area, Special openings of sites normally not accessible to visitors.
Tours run every day, all year round by fully licensed guide
Pick up- drop off from your accomodation in Rome is also available.
Please mail us for availability and price.
info@italy2love.com